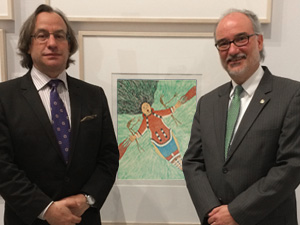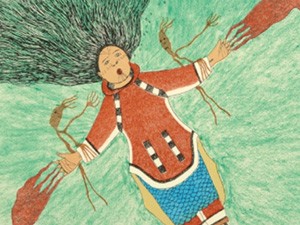 In recognition of Canada 150, and in memory of our father Ashley Brown, "Leon A. Brown Ltd is pleased to donate Nuliajuq's Fate, an original piece by renowned Inuit artist Ningeokuluk Teevee, to the Art Museum of the Americas of the Organization of American States (OAS).
"Dad was a hunter, a fisherman, and overall a huge advocate of our Country's great northern spaces," says Jon Brown, Executive Vice President of "Leon A. Brown Ltd. "We hope the stories told through northern artists will help in the ongoing dialogue on how to save and preserve these lands for those still to come. My brother Bobby and I are delighted to help in a very small way."
The donation will be used by the Art Museum of the Americas to help promote a greater knowledge of Canadian art and the diversity of its peoples and cultures in the Americas.
Ningeokuluk Teevee is a Canadian Inuk writer and artist. Her first children's book, Alego, was a nominee for the 2009 Governor General's Award for children's literature illustration.
Art Museum of the Americas' work is based on the principle that the arts are transformative for individuals and communities. This belief simultaneously serves to promote the core values of the Organization of American States (OAS) and its Secretariat of Hemispheric Affairs (SHA) by providing a space for cultural expression, creativity, dialogue and learning, highlighting themes such as democracy, development, human rights, justice, freedom of expression, and innovation.