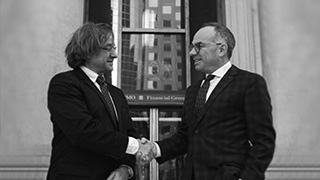 On November 21, 2017, Winnipeg Mayor Brian Bowman recognized Leon A. Brown Ltd. for 90 years of service to Winnipeg's arts communities, charitable organizations and historic buildings with the presentation of the Organizational Community Service Award at Portage and Main.
Leon A. Brown Ltd. was founded as an insurance company in 1927 by Leon Abraham Brown. Shortly thereafter, Brown made his foray into the real estate market with the purchase of a few choice properties at the corner of Portage and Main. His company was prosperous and dynamic.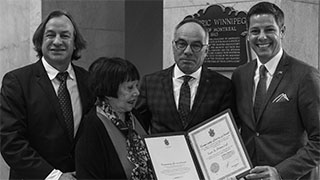 Leon's son Ashley – a father, soldier, farmer and early advocate for Winnipeg's arts community and architectural heritage – later took up the torch. Ashley enjoyed breathing new life into the beautiful but weathered buildings in the area we now call The Exchange District.
Today, Leon A. Brown continues its legacy of advancing the architectural, cultural and economic development of Winnipeg's downtown, Exchange District, Waterfront North and South Point Douglas through heritage building restoration and adaptive reuse. In November, the company was honoured to receive Heritage Winnipeg's Distinguished Service Award, which "recognizes the special contributions of individuals or organizations that have demonstrated a concerted effort and leadership in protecting, conserving, promoting or communicating the historic and/or architectural values of Winnipeg's built heritage."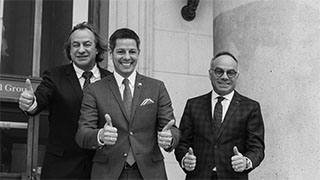 Leon A. Brown is proud to support a wide range of charitable causes, including The Winnipeg Foundation, Canadian Museum for Human Rights, Salvation Army, the Winnipeg Art Gallery, Art City, Siloam Mission, B'nai Brith Camp, Nuit Blanche and The United Jewish Appeal.
"While we set our sights on the future, it's equally important to look at those who are around us right now," said Jon Brown, Executive VP of Leon A. Brown Ltd. "There is huge need and work to do for those in our community most vulnerable and at risk. These organizations lift people up every day in the hope that tomorrow may be better."
"We believe in hope,
and we believe in tomorrow."